Hi friends! It's Trish here again,
Finally, it's here! Our new Gel Fusion collection. Inspired by the different streets and counties of LA, we created a new collection of 'gel-like' nail polish that is reminiscent of our vacations in California.
We'll be separating this review into 4 parts (to make myself look more academic) – First being its uniqueness, color, application and durability. 
So without further adieu, let's begin!
Uniqueness
Now this is really the main reason why I started carrying Gel Fusion on my store in the first place. You see, Gel Fusion has a couple of things that many other nail polishes do not claim to have, or have at all in the first place… in fact I can dare say that there are not that many companies that care about their consumers as much as the brand who made Gel Fusion (Three Beauties) do!
Why so you may ask? Well, reason being is because the brand itself seem to be aware about alot of the different problems we would encounter while using Nail polishes, and they do CARE about them and try to fix them.
So what makes Gel Fusion and the Three Beauties brand so unique?
Free from 9 toxic nail polish ingredients

Pregnancy safe

Not tested on animals

It's named after the different streets across LA (I'm actually sold at this part)
It's hard to find a formulation that does not involve that many harmful chemicals (Formaldehyde, Toluene, DBP… the list goes on). PLUS the fact that Gel Fusion does not involve any sort of animal testing is literally a nail in the coffin for me.
Without rambling on too much about animal testing, harmful ingredients and stuff (we will be releasing those articles next week, so subscribe here to stay notified!), I think it is important that we do pay attention what we are actually using sometimes coming from someone who has suffered (in terms of Health) from cosmetic products. It is also a plain old myth that the more expensive a product is, the less harmful it is…. Oh no that's far from the truth sometimes based on my experience. This is what I meant when the brand actually cares, unlike so many others.
so I to give it 9/10 Ramens!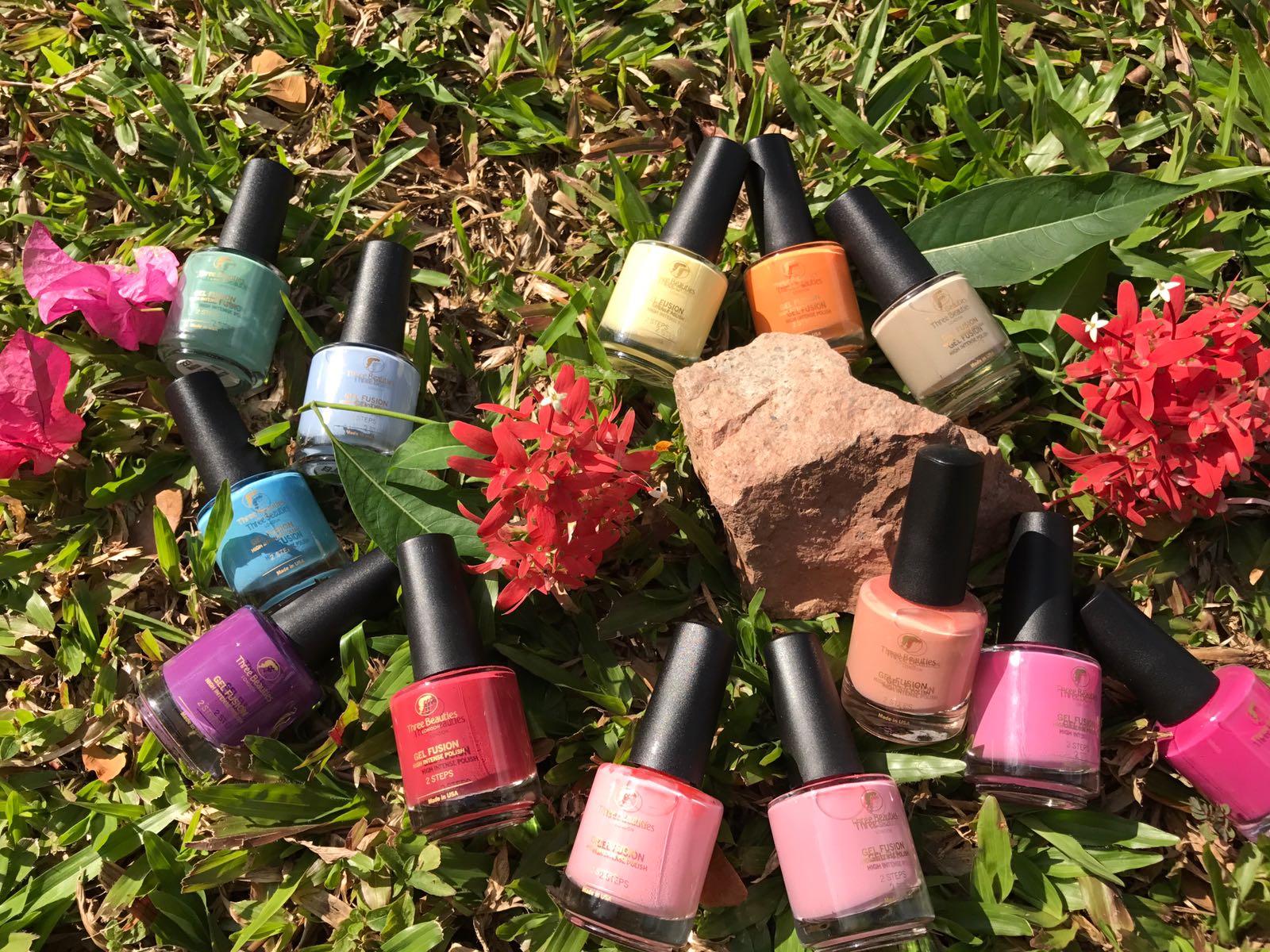 Colors
The colors are gorgeous and unique, especially the pastel and nude colors we have in this gel-fusion line. It is representative of what is trending as of 2017/18 with colors as shown above.
I like the fact that it is named after famous streets and districts across LA. Having gone to LA myself, it really is nostalgic to look at these colors as they really do look like the backdrop of these places at times (Not sure if that made sense). With that, I did a few infographics to better represent the nostalgic "feels" I received from my trips to LA shown on the right!
Not to mention, it does give off a gel-like look and feel that you would typically be able to get by going to nail salons. (Plus no UV lamp needed, That's a plus!)
In conclusion, I am definitely in love with the pastel shades of this gel fusion series and i totally find the colors to be so cute and gorgeous! (To see all the shades; checkout our infographics over here!)
Application
This isn't exactly the most convenient part. Lighter colors do take quite a while to dry for the Gel Fusion line, and can be hard to apply due to it being more viscous than what is usual.
Also, you would have to apply the activator topcoat after finishing applying Gel fusion on your nails, waiting for it to dry again  -.- ,Quite laborious due to the extra steps necessary. (Unless you consistently use topcoats like me!)
But at least you end up with something that looks gel-like without  actually going to a manicurist for almost the same cost of buying a couple of nail polishes.
I would give this about 7/10 Sushi Rolls, though not exactly the end of the world if you ask me. It took me just about 10-15 mins for it to dry, much like other nail polishes.
Duration
For Gel Fusion's durability, it is pretty decent for me as it managed to stay on for just about a week without chipping. Maybe because I was extra extra careful (Grew accustomed to it) with my nails, but otherwise it was not really a big issue for me. BUT I did a test video as shown above, and wow was I amazed!
Would give this 8/10 Chilli Crabs for this one.
Conclusion
The fact that Gel Fusion aligns with my beliefs in animal free testing and the lack of harmful chemicals has already sold me in the beginning. I do get compliments with my nails here and there, some even thought that it was from bigger and more renown brands. I can say for certain the lighter colors do really "Pop" vividly and strikingly, so I would say it is worth the effort.
It is available at my store of course, and also as a thank you note (for reading this far down lol), Me and Tash would be having discounts every Friday!! So do go and make your purchases on Friday if you intend to buy our products if you are on a tight budget this week! (Click here for an auto-reminder)
Signing off, Trish